Mehgan James The New Queen B of Basketball Wives LA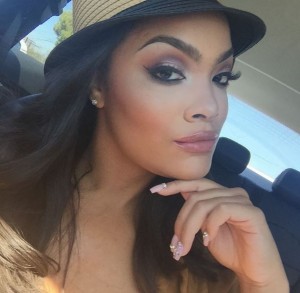 What started as a bad first impression between Meghan and Draya has turned into a year long beef. It alls tarted during filming when Draya was hesitant to get close to the newest cast member of Basketball Wives LA, Mehgan. Draya had succeeded in getting former castmates Brittish Williams and Sundy Carter fired. Michele is the most popular among viewers and she refused to return if either lady was still participating in the new season. To keep her on board producers had to cut ties with her onscreen enemies. Even though Jackie had rubbed Draya the wrong way last season with her claims that her daughter was dating her then fiance Orlando, producers felt that Jackie was also an intricate part of the show. It just couldn't be all of Draya's friends. But to keep her happy they didnt inform her that Jackie was returning.
When Draya met Mehgan on episode 1 it seemed a little odd that someone who seemed close to Jackie on social media would deny her relationship with her. Draya gave the former Bad Girls Club star little of her time and that left a nasty taste in Mehgan's mouth. Since then Mehgan has been feuding with Jackie, which will be revealed later this season. The latest shade thrown by Meghan was her calling Draya and Orlando's breakup fake in a recent interview.
"It's all fake," the latest entrant to the VH1 reality show told Hip Hollywood. "They're still together. She's still living in house, driving his car, and it's a publicity stunt. That's my opinion. the breakup, the makeup, the re-breakup, the makeup before that and the breakup before that, it's fake. That's just my opinion."
In the same interview, Jackie Christie, the infamous Basketball Wives star, admitted that Scandrick was double dating Michele and her daughter Chantel. Christie also said that she too believes that the entire breakup drama is staged.
"It's never been made public. That meant the world to me…Was for her and him to admit what really happened. Now, I just wish the best for them. I don't deal with that situation. I don't speak about it because I don't really know. I don't know what's going on," adding that "I would love to counsel them."