Malaysia Pargo Biography: 5 Things You Didn't Know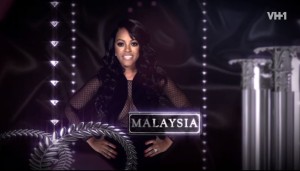 I'm a little shocked that Malaysia is still on the show but she is a fan favorite. She is one of the few in the series to be actually more than a Baby Mama. She is married to Jannero Pargo and the two have three children. She named her three beats Jewelry line after them. They represent her three heart beats. It's a children's jewelry line.
Malaysia took Brandi's spot on the first season of Basketball Wives LA.  Although we are just getting to meet Brandi surprisingly it was Brandi who got Malaysia on the series in the first place. Malaysia and Brandi were close friends and it was Brandi who auditioned for the show. Basketball Wives producers felt she needed a friend to be considered for the series. Well unfortunately Brandi was still turned down and the producers went with Malaysia instead.



Her net worth is $3 million. The majority of her earnings are from her husband NBA player Jannero who currently plays for the Charlotte Bobcats.  He's been with over 11 teams in his 12 year NBA career which is not a good look. He's played overseas and recently was cut from the Atlanta Hawks and is playing for the Bobcats who currently have one of the worst stats in the league.  His current salary is $1.3 million. Over his career he's only earned $17 million which is what the average NBA player makes a year.
Her current salary on the series is over $100,000. The show is in it's third season and has went through some major cast changes. It was initially reported that the cast was changed to bring new drama to the series but there was already enough beefing and cat fighting going on in season 1 and two. The real issue was Laura, Gloria and Brooke wanted major pay raises and I'm talking about NeNe Leakes stuff. Since the show's ratings were not enough to give out bonuses for the cast the producers felt it would be better to cut the beef and in turn pay less for fresh faces. Jackie, Draya and Malaysia currently are paid over $100k for the current season.



Malaysia met her husband Jannero at a party in Los Angeles. He was recently drafted to thee Los Angeles Lakers and she was living in Compton California at the time.  Now almost 12 years later she has the ring and the three children to prove their legitimacy of their relationship. She is one of the few on the current season married to an NBA player.
Her little brother Jeremy Pargo lost his contract with the 76ers in 2013.  After just 3 years in the NBA he is now in Russia with a much smaller contract. He was earning $2 million in 2012 with the 76ers and is now earning $200K.