Biography: Meet Brandi Maxiell Basketball Wives LA newcomer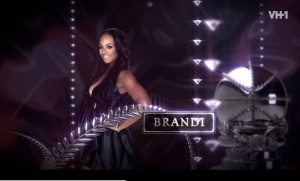 Let's keep it real, the only reason we watch these reality shows is for the drama. It's like watching real life turnt up to a 1000. But sometimes we forget these are real people. The ladies have all admitted that Brandi is the most boring and most bourgeoisie of the cast. And Draya says the only thing she can say about her is she's tall. So I'm not sure if she will be returning next season. Outside of how the girls feel about her Brandi Maxiell has more going for her than we think.
1. She survived Ovarian Cancer. Her diagnosis maybe the reason why she's put up such a wall when meeting the other girls. The cancer started in her reproductive areas and affected her eggs. She was fortunate to be diagnosed with stage 1 which made the treatment much easier.
2. Her net worth is $2.5 million. She is currently a housewife but her net worth and earnings are shared between her husband Jason who is in the NBA. In 2013 according to his current contract he earns $2.5 million from the Orlando Magic. She stays in LA with their children while he is in Florida during the regular season.
3. She has fertility issues. The reason Brandi and her husband moved to Los Angeles was to go through fertility treatment. Because of the damaged cause when she was diagnosed with ovarian cancer Brandi was told she couldn't have children anymore. But with the plethora of breakthroughs in the healthcare industry there were a few centers in and around Los Angeles that was known for having a high success rate for pregnancies.
4. Best friends with Malaysia Pargo. After salary demands from former cast members Bambi, Laura, Gloria and Brooke VH1 was forced to make some cuts. They gave the show's vets Jackie, Draya and Malaysia pay raises and added the newcomers. The girls were also asked to give suggestions for new cast members. Since Malaysia and Brandi were close friends and also a wife of an NBA player it seemed like a perfect match. But unfortunately the chemistry with the other ladies is not there. Brandi claims the others weren't as welcoming of her.
5. Married to NBA baller Jason Maxiell. Jason was drafted to the NBA in 2005 and he met his current wife Brandi when he was in high school. He was an all star athlete and garnered major attention during his high school career. He was initially signed to Detroit Pistons who he played with until 2013. He was then traded to the Orlando Magic who he currently plays.